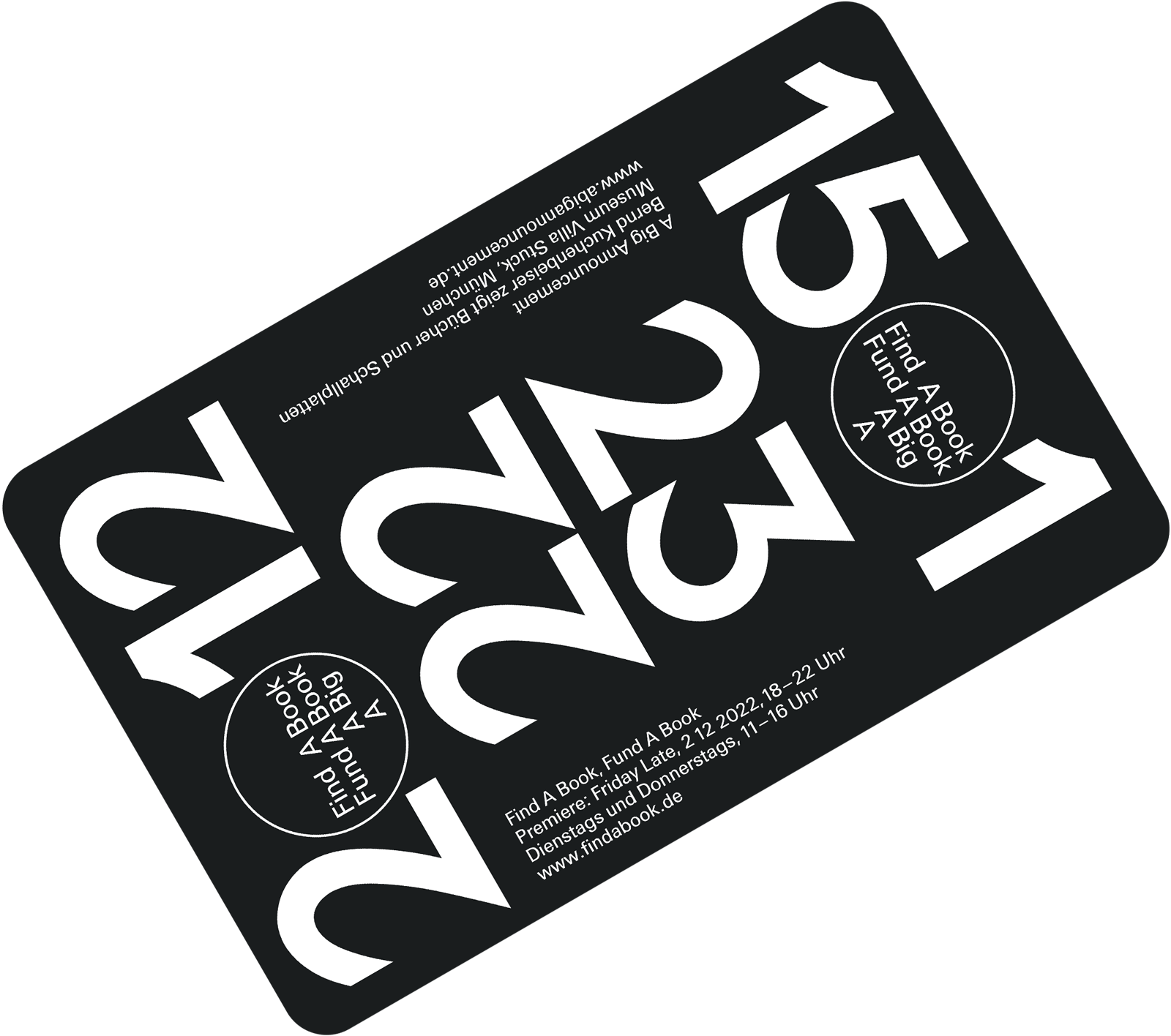 D
Vielleicht finden Sie in diesem Regal ein Buch, nach dem Sie schon immer gesucht haben (A Big Announcement, Organic Order, 1. OG). Ziemlich sicher aber eines, das genau hier auf Sie gewartet hat.
Sie bestimmen, was es Ihnen Wert ist!
Mit Ihrem Kauf erwerben sie nicht nur das Buch. Sie werden auch zum Unterstützer eines neuen Buchprojekts, für dessen Produktion alle Einnahmen verwendet werden. Geplant ist eine auf 560 Seiten erweiterte Neuauflage der vergriffenen und von der Stiftung Buchkunst als eines der schönsten deutschen Bücher 1999 prämierten Publikation über AG Fronzoni 'Man hielt mich für verrückt, doch man ließ mich gewähren' (siehe AG Fronzoni Tablar in der Ausstellung, Mudslide, 2. OG).
Alle Bücher werden fotografiert und gestempelt. Mit Ihrem Kauf erklären Sie sich einverstanden, dass Ihr Buch, Ihr Name und der Kaufpreis auf der Website des Projekts veröffentlicht werden:
www.findabook.de
E
You might find a book on this shelf that you have always been looking for (A Big Announcement, Organic Order, 1st floor). But almost certainly one that has been waiting for you right here.
You decide what it is worth to you!
With your purchase you do not only acquire the book. You become a supporter of a new book project, for the production of which all profits will be used. A new edition, extended to 560 pages, of the out-of-print publication on AG Fronzoni is planned ('They thought I was crazy, but they went along with it'). It was awarded as one of the Most beautiful German books 1999 by Stiftung Buchkunst (see AG Fronzoni shelf in the exhibition, Mudslide, 2nd floor).
All books will be photographed and stamped. With your purchase you agree that your book, your name and the purchase price will be published on the website:
www.findabook.de
Design: Bernd Kuchenbeiser
Programming: Simon Malz
All materials on Find A Book Fund A Book
are being made available
for noncommercial and educational use only.
All rights belong to the authors.
Please consider our privacy policy.

(c) 2011 – 2023
Bernd Kuchenbeiser Projects, Schwanthalerstraße 77
80336 München (Germany) +49 89 2710874
projects (at) kuchenbeiser.de